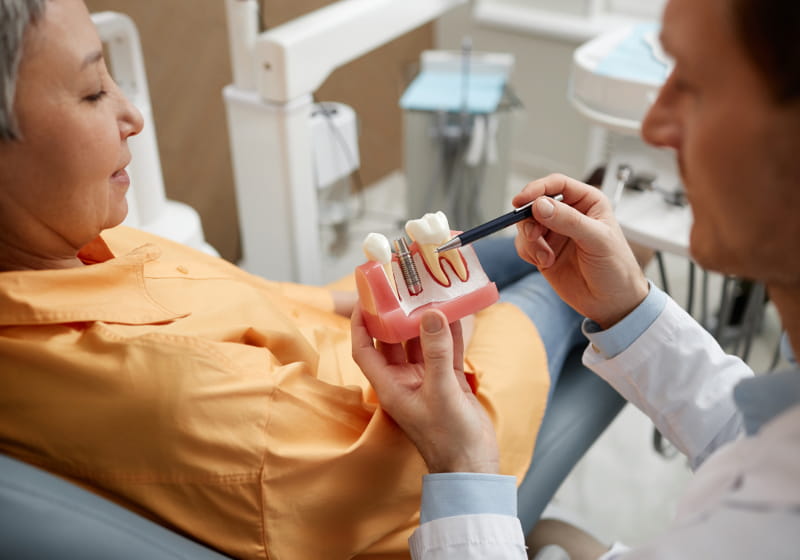 A Comprehensive Solution for a Radiant Smile
At The Village Dentist, we're dedicated to bringing back the smiles of our Toronto patients. With our expertise in dental implants, we offer a long-term solution to missing teeth, ensuring you regain both your smile and confidence.
Diverse Dental Implant Options at The Village Dentist
Single Tooth Implants Ideal for replacing a single missing tooth, it comprises a titanium post embedded in the jawbone, an abutment, and a crown that mimics the appearance of a natural tooth.

Multiple Implants Perfect for those missing two or more adjacent teeth, multiple implants provide a comprehensive solution.

All-on-4® Dental Implants A revolutionary technique, All-on-4® allows us to replace an entire arch of teeth using just four strategically placed implants.
What Exactly Are Dental Implants?
Dental implants are essentially titanium posts that are surgically embedded into the jawbone. Acting as replacement tooth roots, they provide a robust foundation for a replacement tooth or a set of teeth. They've become a sought-after solution for those in Toronto who have lost teeth due to injury, decay, or other dental issues. Unlike dentures, which can sometimes be uncomfortable, dental implants offer a more permanent and natural-feeling solution.
Diverse Dental Implant Options at The Village Dentist
Enhanced Oral Health: Dental implants contribute to the health of surrounding teeth as they operate independently, without needing support from adjacent teeth.

Comfort & Aesthetics: They offer a natural look and feel, ensuring you can smile, talk, and eat with confidence.

Uncompromised Speech: No worries about speech alterations, a concern often associated with dentures.

Dining Delight: Relish your favorite Toronto delicacies without any discomfort or dietary restrictions.
Why The Village Dentist for Dental Implants in Toronto?
Our commitment is to provide top-tier dental implant services in Toronto. With a team of seasoned professionals, we employ the latest techniques and technologies, ensuring your implant procedure is both comfortable and efficient. If dental implants sound like the solution you've been searching for, contact The Village Dentist today for a consultation.