TMJ/TMD Disorders
Understanding, Diagnosing, and Treating Jaw-Related Concerns
Temporomandibular joint (TMJ) disorders, commonly referred to as TMD, can be a source of discomfort and pain for many. At The Village Dentist, we're committed to helping our patients understand, diagnose, and find relief from these often-debilitating conditions.
What is TMJ/TMD?
The temporomandibular joint connects your jaw to the temporal bones of your skull. TMD disorders refer to a variety of conditions that can cause pain in your jaw joint and the muscles controlling jaw movement. The exact cause of a person's TMD is often difficult to determine, as pain can arise from various factors, including jaw injury, arthritis, or genetics.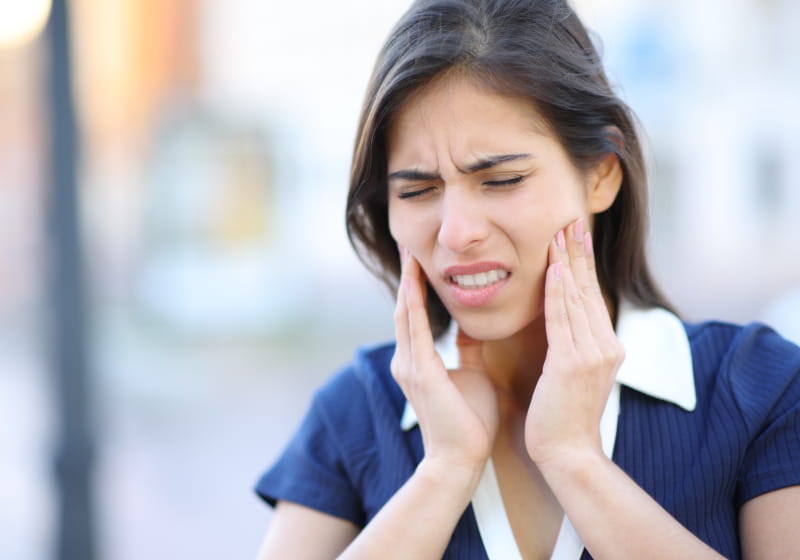 Common Symptoms of TMJ/TMD
Pain or tenderness in the jaw

Aching pain around the ear

Difficulty or discomfort while chewing

Facial pain

Locking of the joint, making it difficult to open or close the mouth
Diagnosing TMJ/TMD at The Village Dentist
A thorough examination, including X-rays, can help determine if your pain is due to TMD. Our team will review your history, assess your jaw's range of motion, and identify areas of pain or discomfort.
Treatment Options
Treatment for TMD varies based on the specifics of the diagnosis. At The Village Dentist, we offer a range of treatments, from conservative self-care practices and physical therapy to more complex treatments. In most cases, we recommend the least invasive treatments as the first line of defense.
Why Choose The Village Dentist for TMJ/TMD Treatment in Toronto?
Our team is dedicated to providing comprehensive care tailored to your unique needs. We understand the complexities of TMJ/TMD and are here to guide you every step of the way, ensuring you receive the best possible care and relief from discomfort.
If you suspect you might be suffering from TMJ/TMD or are experiencing any of the symptoms mentioned, don't hesitate to reach out to The Village Dentist in Toronto. We're here to help you navigate your oral health journey with confidence.