Rediscover Your Smile with Comprehensive Solutions
At The Village Dentist, a trusted dentist in Toronto, we recognize the profound impact that missing multiple teeth can have on one's confidence, oral health, and overall well-being. That's why we're dedicated to offering a range of dental implant options in Toronto tailored to your unique needs.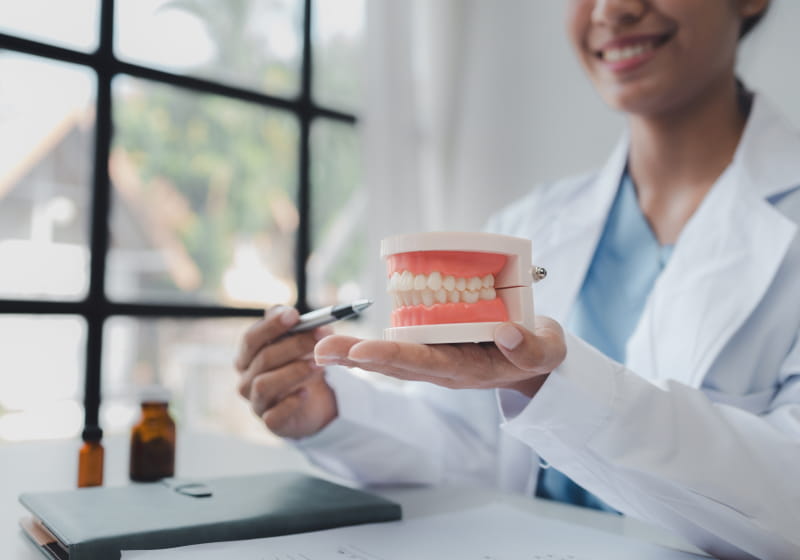 Why Choose Dental Implants for Multiple Teeth Replacement?
Dental implants have become the gold standard for tooth replacement in many Toronto dentist office, primarily because they replicate the appearance, sensation, and functionality of natural teeth. The process involves:
A titanium post surgically embedded into the jawbone, acting as the tooth root.

After a healing phase, a custom-made dental crown or bridge is affixed, resulting in a natural-looking and fully functional set of teeth.
Diverse Dental Implant Options at The Village Dentist
Traditional Implants For each missing tooth, an individual implant and crown are used. This method offers maximum stability, ensuring the most natural feel and appearance.

Implant-Supported Bridges Ideal for replacing several adjacent missing teeth. It involves placing two or more dental implants in the jawbone to support a bridge of prosthetic teeth.

Implant-Supported Dentures A preferred choice for those missing most or all teeth. Typically, four to six dental implants support a full arch of prosthetic teeth, offering more stability than conventional dentures and enhancing speech and chewing capabilities.
Why Choose The Village Dentist for Multiple Teeth Replacement?
Our team of dental professionals, known for excellence in dental implants in Toronto, is committed to understanding your specific needs and guiding you to the best dental implant solution. Leveraging cutting-edge technology and techniques, we ensure a comfortable and efficient treatment journey. Let us help you restore your radiant smile and boost your oral health.
Interested in exploring multiple teeth replacement options with a trusted Toronto dentist? Contact The Village Dentist today for a consultation.